Peace Engineers
Peace Engineers (PE) is the title given to the graduates of the full-time training programme who received the Green certificate and obtained a personal identification number of a Peace Engineer (ID), which corresponds to the number indicated in their certificate.


They are the experts in peace-building who possess the following skills:
facilitating dialogues to restore connections between groups of people after destructive events, particularly violent conflicts
acting as mediators in destructive conflicts with the purpose of ending or preventing escalation of tensions and violence
carrying on negotiations in order to initiate or restore peaceful processes in the communities
developing projects for strengthening of peaceful cooperation in communities of different regions of the country
holding workshops, providing consultations and supervisions in this field of activity
Find more about Peace Engineers in the relevant section of the website.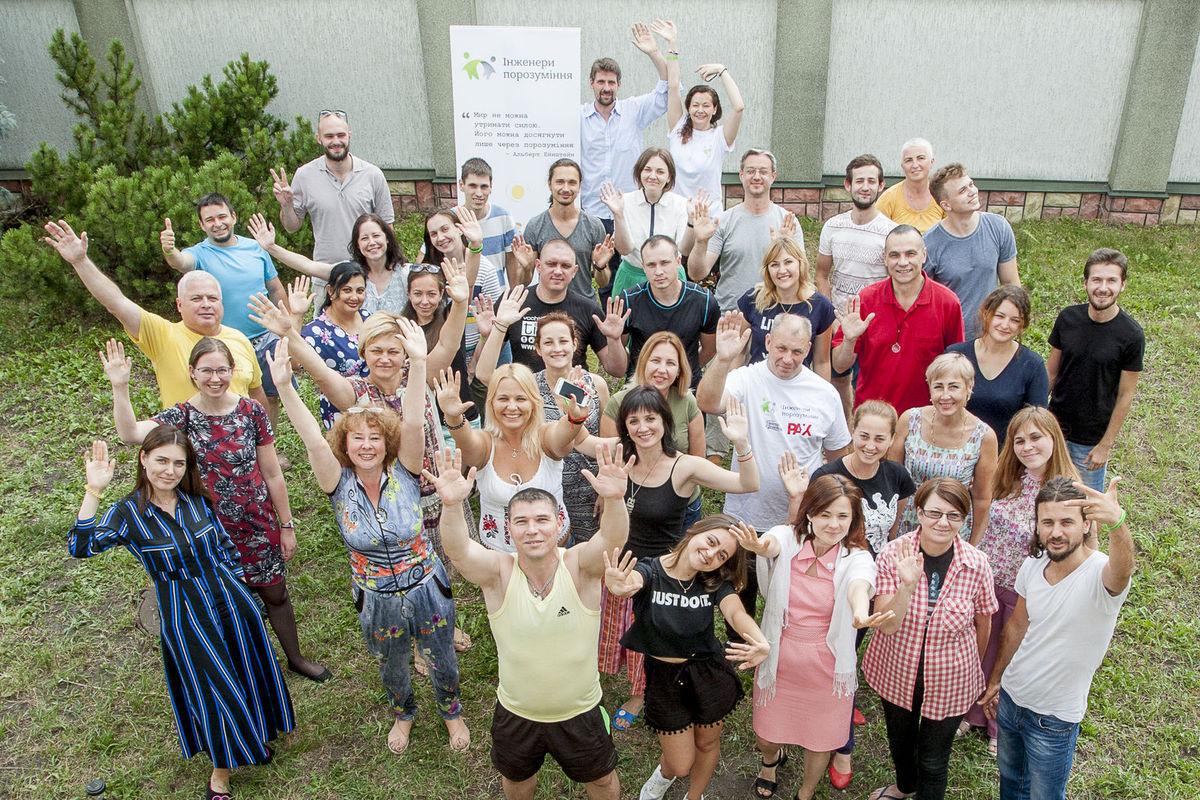 Group №1
Terms of study: May 12, 2017 – May 16, 2018
Group №2
Terms of study: September 13, 2017 – September 13, 2018
Group №3
Terms of study: January 22, 2018 – January 22, 2019.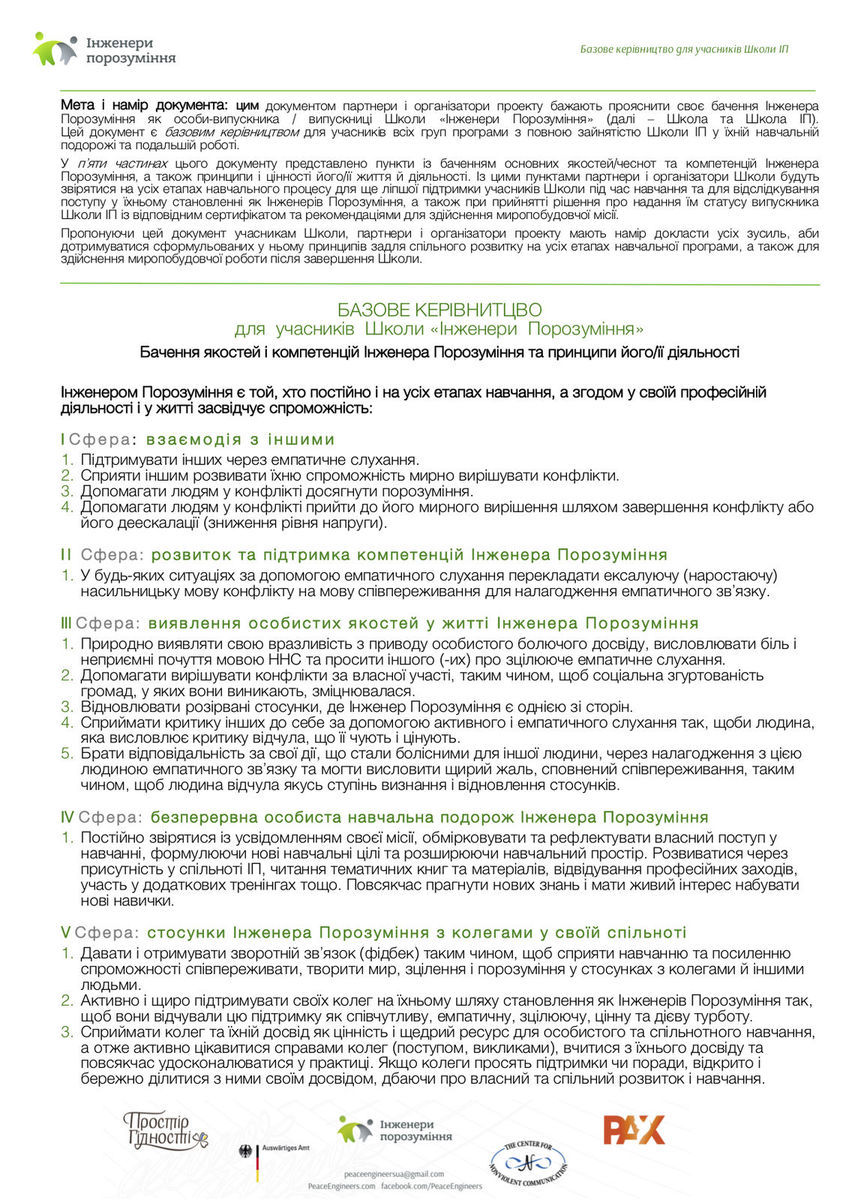 Purpose of the document: with this document the partners and organizers of the project wish to explain their vision of a Peace Engineer as a person who graduated from the Peace Engineers School (hereinafter, the School or the PE School). This document is a basic guide for the participants of all PE School groups during their academic journey and further work. The five parts of this document contain points of reference for the main qualities and skills of a Peace Engineer as well as their life and work principles. The School organizers and partners will address these points of reference at all stages of the training process for better support of the School participants during the training and evaluation of their progress in becoming Peace Engineers, as well as while making a decision on awarding the status of the PE School graduate with granting of the appropriate certificate. Offering this document to the School participants, the partners and organizers of the project intend to make every effort to adhere to the principles laid down in it for the sake of joint development at all stages of the training programme, as well as for the further peacemaking work after graduation from the School.
BASIC GUIDEfor the Participants of the Peace Engineers School Vision of Qualities and Skills of a Peace Engineer and Their Work Principles
Peace Engineer is a person who continuously and on all stages of training, and later on – in their professional activity and personal life certifies the ability to:
Area I: interaction with others
1. Supporting others through empathic listening.
2. Helping others in development of their ability to peacefully resolve conflicts.
3. Helping people involved in a conflict to reach mutual understanding.
4. Helping people involved in a conflict to find a peaceful solution through the conflict resolution or its deescalation (reducing the level of tension).
Area II: development and maintanance of the skills of a Peace Engineer
1. In any situation, using empathic listening to translate the escalating violent language of a conflict into the language of compassion in order to establish empathic connection.
Area III: identification of personal qualities in a Peace Engineer's life
1. Naturally revealing one's own vulnerability due to the personal painful experience, expressing pain and disturbing feelings through the language of NVC and asking the other (others) for a healing empathic listening.
2. Helping to resolve conflicts involving themselves so as to increase social cohesion of the communities in which the conflicts arise.
3. Repairing broken relations where a Peace Engineer is one of the parties.
4. Accepting other people's criticism towards themselves through active and empathic listening so that the person expressing criticism feels heard and appreciated.
5. Taking responsibility for one's own actions that have caused pain to other people through establishing an empathic connection and being able to express genuine regret, filled with compassion so that the person feels some kind of degree of recognition and renewal of the relationship.
Area IV: continuous personal educational journey of a Peace Engineer
1. Constantly considering and reflecting on the own progress in the training, setting new educational goals and expanding the training horizons. Developing through reading appropriate books and materials, attending professional events, participating in additional courses etc. Neverending striving for new knowledge and a keen interest to acquire new skills.
Area V: relationships of a Peace Engineer with colleagues in their community
1. Giving and receiving feedback in a way that promotes learning and enhances the ability to sympathize, create peace, healing and mutual understanding in relationships with colleagues and other people.
2. Actively and sincerely supporting the colleagues on their path to becoming Peace Engineers so that they feel this support as a compassionate, empathic, healing, valuable and effective concern.
3. Seeing the colleagues and their experience as a valuable and generous resource for personal and shared learning, and therefore be actively interested in the colleagues' affairs (progress and challenges), learning from their experience and constantly improving through the practice. If a colleague asks for support or advice, openly and carefully sharing your experience with them, taking care of your own and common development and learning.